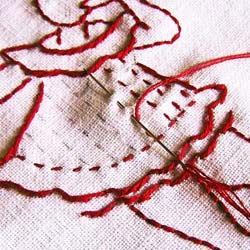 When did embroidery begin cannot be really told though we can only assume that it has been around ever since man began to cloth himself. Every culture across the world had developed the art of needlework. There had also been an exchange of the art of embroidery between cultures and countries over the ages and every time, it evolved into something newer!
If we were to start learning the different embroideries of the world, it would take us more than a lifetime. The art with thread and needle has been an ongoing and evolving process. While many hand embroidery forms must already be extinct, many others have managed to pull through. Hand embroidery is now evolving with modern expressions. In short, hand embroidery has moved from being a mere necessity to being a form of art as well.
If you are absolutely new to the art of Hand Embroidery, then I recommend you to check the For Hand Embroidery Beginners section first.
This section will teach you different traditional embroideries. You will get information about its history along with a step-by-step tutorial. Which one would you like to explore today?