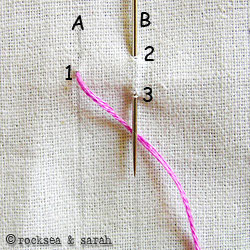 Closed feather stitch brings the 'V's of the feather stitch together giving it a ladder-like look. It can be used as a decorative stitch with embellishments.
I will work between two stitch lines A and B.
Fig 1: Begin by bringing out the needle through the stitch line A. Then, take it through 2 and bring it out from 3,both points which lie on stitch line B.
Note that 1 positions diagonally to 2 and 3.
Fig 2: Now, take the needle in through 1 and bring it out through a point which lies just below it on the same stitch line.
Fig 3: Continue this process. A finished portion of this stitch should look like this.