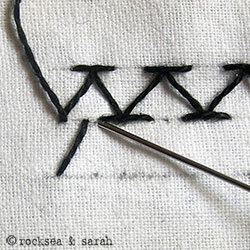 This is an interesting stitch that can be used for fillings. It uses parallel rows of chevron stitches and adds texture to the filled motif. This stitch allows you to experiment widely with colors. For instance, you can use a different color for each row of the chevron stitch.
You need to know the Chevron Stitch to be able to continue with this tutorial.
Fig 1: Stitch a row of chevron stitch as. Start another row of chevron stitch right below the previous row.
Fig 2: Fill in each gap made in the previous row while stitching the next row.
Continue making parallel rows of chevron stitches to fill the desired motif.
Fig 3: A filled area would look like this.
Try experimenting with different shades of a color for each row of this stitch. You can also try alternate colors for an interesting variation.