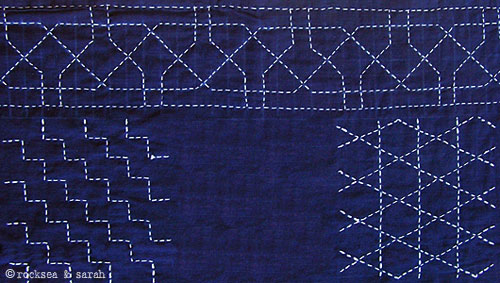 About and history:
The word literally means 'little stabs' in Japanese.
Sashiko is a form of stitching used to anchor down layers of cloth used in making quilts. This form of stitching is geometrical in nature, and is done using only the running stitch. Stitching layers of fabric together not only made the fabric warmer for use, but also more durable and strong. This is how Sashiko came to be used extensively in quilt making. The farming and fishing communities made use of Sashiko art on their wearables.
Traditionally dark blue or indigo cotton fabric was used, which was the only color available to most poor people.White cotton thread was used to do running stitch over the fabric. Regionally, the fabric color differed though.
It is stated that Sashiko was developed during the Edo period in Japan and this art declined in the later part of 1800s when the period came to an end.
Sashiko has three variations: Sashiko, Hitomezashi, and Kogin.
Sashiko follows the simple running stitch to bring out beautifully depicted geometric patterns. Hitomezashi follows the holbein stitch and is often said to be similar to the black stitch as its western counterpart. Kogin is a type of pattern darning.
Sashiko today:
Sashiko was passed down from generation to generation as a handiwork that formed a part of life, but today, Sashiko has become a technique to create beauty and works of aesthetic value. Art, Hand embroidery, and quilting enthusiasts have caught up on the art of Sashiko for the sheer beauty and simplicity.
These days, this art is not confined to just quilts or garments, but has inspired wall hangings, accessories of various sorts, table cloths and other furnishings.

Patterns:
Many Sashiko patterns are inspired from Chinese designs, but for most part, they remain originally Japanese. The patterns are derived from nature, and is wonderfully interpreted into geometrical patterns. You will learn many patterns as you go through each lesson.

Stitches used:
Running stitch

Lessons:
Lesson 1: the basic
Lesson 2: square, diagonals, diamonds and hexagon based patterns
Lesson 3: circles, single patterns and borders
Lesson 4: designs for practice
Reference : SASHIKO Traditional Japanese Quilt Designs by Nihon Vogue