This type of pattern darning will give you an equally good reverse side, if not the same. It is used on fabrics that are used on both sides, like towels and napkins. Here we have to be careful about how to choose the pattern and go about stitching it.
I will demonstrate by stitching a border pattern with horizontal stitch.
Check Pattern darning: reference for detailed instructions to help you more with the lesson.
1. Fabric and thread
| | |
| --- | --- |
| | I have chosen aida (11 count) fabric for the project. I used wool so that the pattern gets a good coverage. |
2. Choosing the pattern
In order to achieve a reversible pattern, I have two things to keep in mind:–Choose a pattern I can stitch horizontally. This will keep the top and bottom of the edges neat.
Start each new row with a new thread. This will avoid me from finishing out with the thread mid way, thus keeping the reverse side neat.
3. Planning the pattern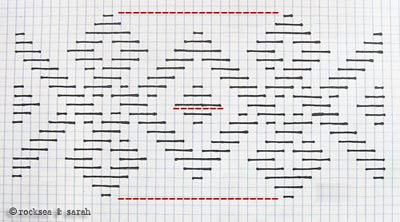 The horizontal graph image of my pattern will look like this. But, I face a problem of having long stitches. Those areas are marked in red. So, I will make some minor changes to keep the stitches within the 5 square limit. This will ensure a less 'dangling' stretch of stitch on either sides.
4. Making the pattern workable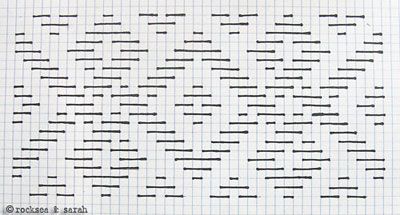 Here are the changes I made to rectify the area marked in red:–On either edges, I have made an addition to the pattern to break down the long stitches that would have occurred in the rows on the reverse side.

I have also made a gap in between the diamond so as to break the long stitch in the front side into two smaller stitches.
5. Beginning and ending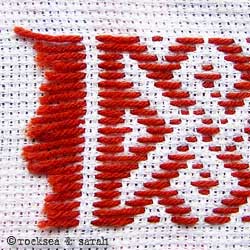 I now begin to stitch on the fabric using the wool.Each intersection of the graph line would be each stitch point.I take each row at a time and each new row is started with a new thread. And so, the ends would look like this.This end would be then be sewn between the hems.
6. The finished pattern
The front and the reverse would look like this 🙂