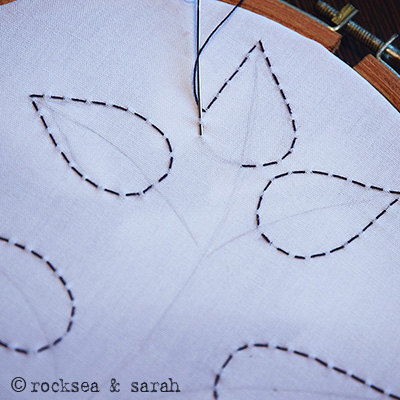 Also known as: double knot stitch, tied coral stitch, old english knot stitch, smyrna stitch, twilling stitch, pearl stitch
Palestrina stitch has its origin in Italy. Many embrodiery styles from Italy has palestrina stitch and there is even an embrodiery style called the Palestrina. This stitch is usually used for outlining or bordering purposes. Any type of fabric and thread can be used to do this stitch, but the perle cotton thread will give the best knotted effect.
There are two variations of palestrina stitch: The long armed palestrina stitch and the long legged palestrina stitch, both of which I have shown below.
| | |
| --- | --- |
| | |
| Fig 1: First, make a singe 'V' as for a regular feather stitch. Bring the needle out through A. Putting in the needle through C, bring it out through B. | Fig 2: First, make a singe 'V' as for a regular feather stitch. Bring the needle out through A. Putting in the needle through C, bring it out through B. |